Light Into Europe provides a fantastic service to people in Romania who have sight or hearing difficulties.
We recieve no government or state financial support and everything we do is due to the generosity of our friends, be they individuals who donate time & money, or companies who sponsor some of our activities.
At present, the annual cost from day one is €3,500. After 2 years extensive training and graduation, the charity continues to pay for all the expenses related to the dogs' health and food plus the ongoing training sessions, so the total cost per dog per working life can reach €30,000.
Sponsor a puppy and change lives!
---
Meet Dylan, a light into Europe puppy in training
He and his brothers and sisters need your support to have the best possible chance of becoming life-changing Guide Dogs. It takes over 2 years to raise, train and transform these pups into brilliant Guide Dogs – a journey only made possible by the support of people like you.
As a puppy sponsor, you'll receive:
Your own unique Puppy Sponsor certificate
A photo of your sponsored puppy
A cute cuddly toy dog wearing a Guide Dog training jacket
Regular "pupdates" from your puppy
And, most importantly, a chance to change somebody's life forever.
Sponsorship arrangements are flexible – you can sponsor a dog for a month or a year; you can pay online via MobilPay and you may start the process by clicking below to sponsor for one month or one year.
You will be taken to the MobilPay system where you can pay by credit or debit card. Please fill in your name, email, mobile and address details so we can deliver the gifts and the "pupdates". If you choose the monthly option we will remind you each month to make the next payment. For the annual option, we will remind you once per year.
Once your payment is cleared, Light Into Europe will contact you within a few days on the email address you provide to arrange the certificate, photo and cuddly guide dog toy.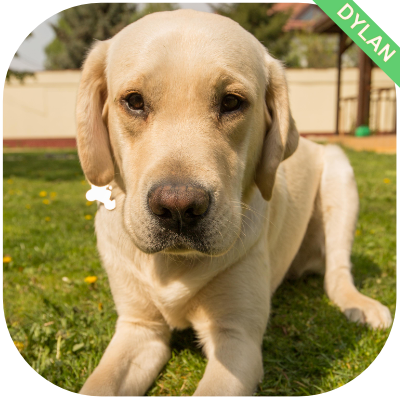 Dylan
Born: 16th May 2018
Breed: Labrador Retriever
Gender: Male
Character: Dylan is an obedient and affectionate pup. He also has a sensitive side so will cuddle up to you if he knows you need a little bit of love.
Current status: Puppy in training
Dylan is the 'ambassador' (or 'ambassadog') for the 'D' generation guide dogs to grow up and go through their training, and as such is the representative sponsor puppy for this year. We will follow his journey from puppy walking to training to fully trained guide dog.